It's difficult to be patient when you're REALLY excited. We at the TRIP lab have been patient for quite some time now – but NO LONGER! We have BIG news and we finally get to share it!
The UAB Translational Research for Injury Prevention Laboratory is now the home of a new high-fidelity, fully immersive, state-of-the-art Driving Simulator .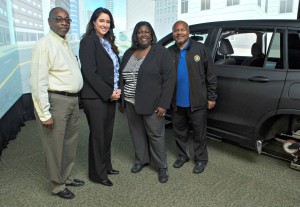 This high-fidelity, fully immersive instrument is designed by Realtime Technologies, Inc. It takes the form of a 2016 Honda Pilot, and you really feel like you're driving! The vehicle features a fully functional steering wheel, throttle, brake, gear selector, turn signals, and dashboard.
A motion base system provides a normal ride height, which gives the driver a more realistic experience getting into and out of the vehicle. This motion base system also provides pitch cues to the drivers for acceleration and braking (the driver feels the pull of slowing down and the push of speeding up).
The roadway and surrounding scenery are provided on three 80" LCD projection screens, which provide a 180 field of view. A large screen behind the cab allows the driver to see the simulated environment behind them using the center rear mirror. The side mirrors have LCD displays that that show the driver what he/she would see from the side mirrors in an actual vehicle. A 5.1 sound system surrounds the vehicle for realistic vehicle and pass-by sounds. There are even full Doppler sound effects. Speakers inside the vehicle provide the sound for warning systems, route guidance instructions, or interaction between the operators and subject driver.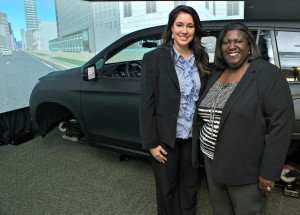 Next to the simulator room is a control room with all the equipment necessary to run and maintain the simulator. These rooms are separated by a one-way mirror.
This driving simulator is truly a wonder and we invite you out to see it for yourself! The Grand Opening of UAB's new state-of-the-art driving simulator will be held at the TRIP Lab (916 19th Street South) on Tuesday, April 19, at 10:00am.  Come out, see the simulator for yourself, and help us celebrate this happy event!
.